Exactech recently announced a nationwide recall of thousands of its knee, ankle and hip replacement implant systems. The recall states that the implants manufactured after 2004 have defective packaging that can cause the polyethylene insert in the devices to deteriorate and degrade early. This is causing complications in patients who received the implants, such as pain, swelling, bone loss and revision surgeries.
If you are a recipient of an Exactech knee or ankle replacement from 2004 or later, you may be eligible for financial compensation through a product liability lawsuit in San Antonio, Texas for the defective medical device. The lawyers at the Law Offices of Maloney & Campolo can help you understand your rights, collect proof of your losses, and file a lawsuit or join a class action against Exactech for maximum results. We offer free initial case consultations.
What Is the Recall on Exactech Knee and Ankle Replacements?
In February 2022, Exactech issued an urgent medical device correction – a follow-up to an earlier recall of its Optetrak Comprehensive Knee System. It stated that the polyethylene inserts used in its knee and ankle arthroplasty devices were compromised due to vacuum-bag packaging that did not conform to the required standards. Issues with the packaging have led to the devices deteriorating faster than their anticipated shelf life, as the faulty vacuum bag allowed oxygen to diffuse into the plastic insert prior to implantation.
The recall involves approximately 150,000 patients who have received the Exactech medical knee and ankle joint replacements. In Exactech's U.S. recall notice, it has a complete list of the implant systems involved:
Acumatch Hip

MCS Hip

Novation Hip

Optetrak Knee

Optetrak Logic Knee

Truliant Knee

Vantage Ankle
Exactech has reported risks such as earlier and more frequent revision surgery rates, an increased risk of plastic wear, potential bone loss, loosening, device fracture, and mechanical failure. Exactech is not notifying patients of the recall directly. Instead, it issued an urgent medical device correction notification to surgeons, hospitals and health care professionals who were reported as having used the implants on patients since 2004. It is up to the health care professionals to track down and notify patients of the recall.
How Will I Know if My Knee or Ankle Replacement Fails?
If you are one of the thousands of patients who received an Exactech knee or ankle replacement since 2004, you may be impacted by the recall. You can check to see if your device is on Exactech's recall list by getting the information about your implant from your doctor. You may also become aware of pain, swelling or other issues with your joint replacement. Currently, Exactech is only recommending revision surgery for patients who are experiencing the symptoms of a problem with the device. These may include:
Pain, especially pain while walking

Ankle or knee swelling

Inability to put weight on the joint

Knee or ankle instability

The knee or ankle giving out

Grinding sounds or other noises coming from your implant

New symptoms of clicking in the joint
The U.S. Food and Drug Administration (FDA) has classified the Exactech recall as a class II recall, meaning that it could cause temporary health consequences in those affected. While the FDA currently believes that the probability of serious health consequences connected to defective Exactech knee and ankle replacements is remote, the situation is new and constantly evolving. Your physician can give you a better idea of whether the defective product will have lasting consequences on your health, mobility or quality of life. 
What to Do if You're an Exactech Implant Patient
If you received one of the Exactech knee or hip replacements that have been recalled, be on the lookout for signs of an issue with your device. Keep in touch with your doctor to monitor for signs of early wear and tear or bone loss. If you're already experiencing pain or other problems with the device, contact a lawyer right away to help you pursue a product liability lawsuit. Partnering with a trusted attorney can allow you to protect your legal rights from the very beginning when going up against Exactech and its legal team.
Call the Exactech-Broadspire Helpline at (888) 912-0403 to initiate a claim. When you make the call, you'll be asked to give certain information to verify that you have an implant that is included in the recall. You will need to know the date of your joint replacement operation, the name of the surgeon who performed the operation and the serial number of your Exactech implant. You can find this number in your medical records. If you don't have all of this information, Exactech can still process your claim and work with your surgeon to fill in the blanks. 
Once you contact the Helpline, you will be assigned a claim number. You will then receive instructions from a claims representative on how to submit your request for reimbursement. You can continue to add to your reimbursement request as you continue to receive evaluations, treatments or surgeries related to the recall using your claim number. It is important not to accept a quick settlement from Exactech until you've consulted with an attorney, however. The reimbursement offered may be less than you deserve for your losses – especially if the implant caused serious medical problems or pain and suffering.
What Damages Are Available?
Exactech has promised remuneration to affected patients in the form of reimbursement for their losses. However, the list of covered losses is relatively short and connected only to the medical evaluations and care required of patients:
Out-of-pocket expenses, such as copays and deductibles

Reasonable travel expenses

The cost of revision surgery
The reimbursement by Exactech is not the same as a personal injury settlement or judgment award. If you wish to pursue compensation for other losses, such as the inability to work, physical pain, emotional suffering and diminished quality of life, you need to contact an attorney to file a lawsuit against Exactech for its defective product.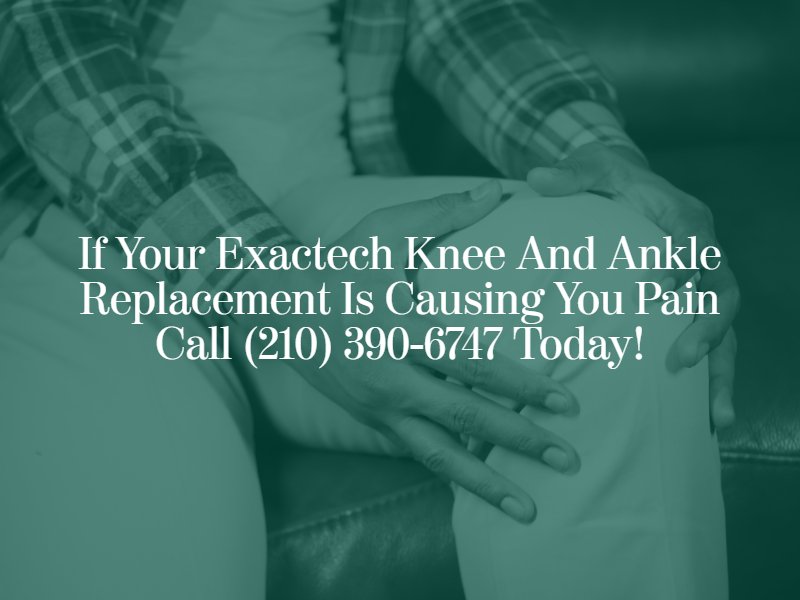 Contact Us About a Potential Exactech Knee and Ankle Replacement Lawsuit Today
A class-action lawsuit against Exactech is highly likely in the near future. This is a group lawsuit filed by multiple plaintiffs who were impacted in similar ways by the same defendant. The Exactech recall is still a developing situation, with active lawsuits pending. Now is the time to take action if you or a loved one has one of the recalled Exactech knee or ankle replacements and is experiencing pain or other issues. Call the Law Offices of Maloney & Campolo at (210) 390-6747 or contact us online today to request your free case evaluation with one of our attorneys.