If you or someone you love has been involved in a truck accident, your choice in legal representation matters. Do not risk your right to financial compensation by failing to speak with a qualified, experienced, and skilled San Antonio truck accident lawyer.
What Are The Benefits Of Choosing Our San Antonio Truck Accident Attorneys?
We have over two decades of collective legal experience. We use our trial skill and knowledge to the benefit of our clients.
We offer affordable legal representation. In addition to free consultations, we do not demand up-front legal fees unless we secure a recovery.
With the Law Offices of Maloney & Campolo, you can be certain that you are being represented by a team of results-oriented litigators who strive to secure the maximum amount of financial compensation you deserve. Do not wait another moment to speak with our San Antonio personal injury lawyers. As compassionate legal advocates, we stand at your side until justice is fully served.
Contact the Law Offices of Maloney & Campolo today at (210) 922-2200 for a free consultation.
Truck Accident Statistics in Texas and San Antonio
The Federal Motor Carrier Safety Administration (FMCSA) tracks commercial truck accident statistics to better increase roadway safety. In 2017, the FMCSA recorded 4,657 fatal accidents involving large trucks. This was a 10% increase from 2016. In addition, 107,000 injury crashes involved trucks in 2017. Every year, thousands of commercial trucks cause and contribute to catastrophic and deadly auto accidents in the U.S.
In Texas, the statistics are no less startling. In 2018, 465 fatal crashes in Texas involved semi trucks. Most of these fatal accidents occurred in rural places (359) rather than urban areas (106). The total number of traffic accident deaths in San Antonio in 2018 was 139. An additional 608 victims suffered serious injuries. A record of the contributing factors involved in fatal crashes in Texas found speeding to be the number one cause, followed by driving under the influence and making unsafe turns.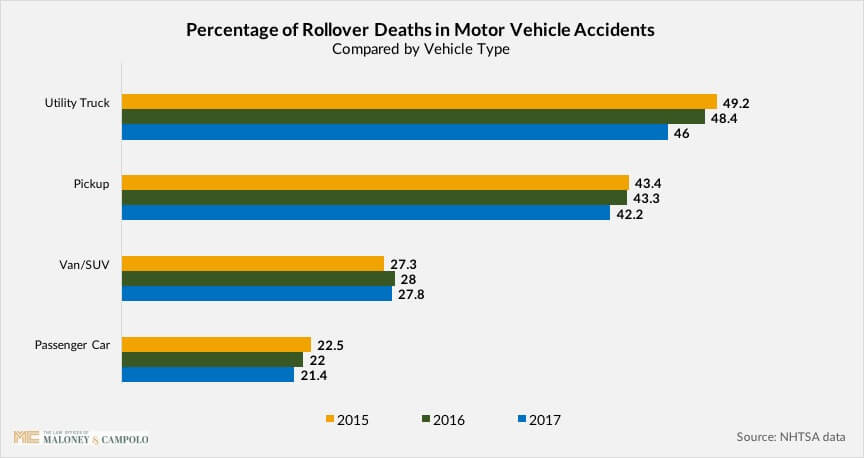 At the Law Offices of Maloney & Campolo, you are not a statistic. We take care of the person behind the personal injury claim. It is our mission to make you feel heard and supported during this difficult time. We look at truck accident statistics to better assist our clients. We use crash data to help us determine important elements such as where crashes occur the most in San Antonio and what is causing them. Then, we use this information to help build our clients' cases.
What Causes Truck Accidents in Texas?
Determining the cause of your truck accident in San Antonio is one of the first steps necessary for bringing a truck accident claim. The person or entity that caused your crash may be liable for your damages. Human error causes most car and truck accidents in Texas. Truck drivers, for example, may make mistakes such as driving drunk, drowsy or distracted. A trucking company will be vicariously liable for the mistakes of its drivers in most situations. If the driver was on duty at the time of your accident, the company will be liable for the actions of the driver.
A trucking company could be responsible for your damages even if the at-fault truck driver was an independent contractor at the time of the wreck, thanks to federal liability laws. The company could also be liable if it contributed to your accident directly. For instance, if the company negligently allowed a damaged or worn truck to transport goods, it could be responsible for a subsequent tire blowout accident. Negligent hiring and training practices are also common reasons to hold a trucking company liable for a wreck resulting in personal injuries.
Our San Antonio truck accident lawyers have also seen truck accident claims that involve third-party negligence. We have seen accidents stemming from defective vehicle parts, for example. Bad brakes or other truck defects could point to manufacturer liability for damages. Other third parties that may owe you money for damages include other passenger vehicle drivers, cargo loaders and truck owners. An analysis of your case by one of our injury attorneys can help you assign fault.
Do You Have a Case?
A truck accident claim could be the answer to funding your accident-related health care costs and property damage expenses. More importantly, it could give you justice after a traumatic truck accident. A successful case could shed light on dangerous trucking company practices in your community. It could force the company to change the way it handles truck and driver safety, potentially preventing future accidents.
You may have grounds for a case if your San Antonio truck accident attorney can prove the defendant owed you a duty of care, breached this duty and caused your accident. These are the four main elements necessary for a truck accident lawsuit in Texas. Your lawyer must prove these elements based on a preponderance of evidence: your case is more likely to be true than not true. Retaining an injury attorney with truck accident experience can improve your odds of achieving positive case results.
We Demand Justice on Your Behalf
Victims injured by negligent truck drivers or their trucking companies have rights. At the Law Offices of Maloney & Campolo, we believe in the necessity of pursuing justice aggressively on behalf of our clients not only so truck accident victims can receive adequate compensation, but also to hold irresponsible parties responsible for their actions.
We accept cases carefully, only taking on cases with credibility and merit. We are against frivolous lawsuits and we do not believe clients should pay us unless we can truly assist with a problem. As a result, we have earned a reputation for honesty and genuine advocacy.
Once we agree to take on a case, we refuse to back down. We go the extra mile to protect the men and women we represent. With years of courtroom experience and a thorough knowledge of personal injury laws, you can trust our San Antonio truck accident lawyers to look out for your interests.
Schedule a Free Consultation to Get Started
If you have been injured by a truck accident, our San Antonio truck accident attorneys are prepared to provide experienced advocacy.
Call the Law Offices of Maloney & Campolo to discuss the specifics of your truck accident in San Antonio. We work on a contingency fee basis – so you don't pay us a penny unless we win.