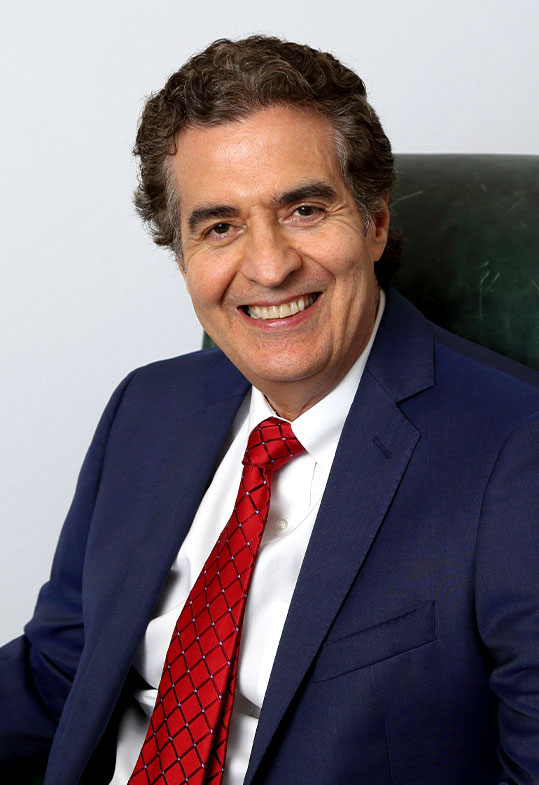 Paul has been practicing law for 37 years. He specializes in Personal Injury Law and has also successfully represented many clients who lost their life savings as a result of unsuitable investments by brokerage firms. Paul is committed to fighting for his clients and has a reputation as a skilled and tenacious courtroom lawyer. The Martindale Hubbell Law Directory has awarded Paul an AV Preeminent rating, the pinnacle of professional excellence, earned through a strenuous peer-review rating process.
The AV rating is the highest possible rating in both legal ability and ethical standards, an honor Paul has earned 14 years in a row. Paul was also the recipient of the 2015 Martindale Hubbell Client Distinction Award. In 2011 Paul was recognized by Texas Monthly as one of the top attorneys in the state. He was also designated a SuperLawyer in 2011, 2020, and in 2021, and recognized as one of the Top 100 Trial Lawyers by the National Trial Lawyers from 2011 through 2021. In 2020 and 2021, Paul was also named one of the best personal injury lawyers in a poll voted on only by fellow attorneys and published in SA Scene Magazine.
He is a member of the San Antonio Trial Lawyers Association and is licensed to practice in Texas, Illinois, and in the Western District Court of the United States of America. In 2009, Paul represented the father of a 14-year-old boy who was killed in a head-on collision on New Years Eve 2006. Five other people were also killed in the accident, in which the tread belt of a BF Goodrich All-Terrain T/ A tire on a Ford-250 pickup partially detached. The jury found a manufacturing defect in the tire and awarded the Plaintiffs $11.96 million dollars.
One of Paul's most satisfying moments as a trial lawyer was recovering $1.3 million dollars for a married couple who were on their way home from Hondo, Texas when an 18-wheeler slammed into the rear end of their vehicle. The settlement he won as a San Antonio truck accident lawyer helped a hardworking couple in a vulnerable position get the justice they deserved.
Paul was born in San Antonio and has spent most of his life in South Texas. He graduated from Oliver Wendell Holmes High School in 1977. He attended Texas Christian University and the University of Texas at San Antonio, where he received his Bachelor of Arts Degree. He earned his law degree at the age of 24 from St. Mary's University Law School in San Antonio.
Paul gained extensive trial experience as Assistant District Attorney for the Taylor County District Attorney's office in Abilene, Texas, and as Assistant District Attorney for the Bexar County District Attorney's office. He tried to jury more than 100 felonies with a 99-percent conviction rate.
Paul married Suzette Gibson in her hometown, Nixon, Texas, in 1980. They have 2 children: Eric, a graduate of Texas Christian University, and Nicolas, who graduated from Texas A&M University in College Station.
Baseball is Paul's passion. He pitched for Holmes High School and was awarded a college baseball scholarship. Paul coached Little League and Pony League for 10 years and continues to support both.
Paul has been actively involved in the community. He served as a board member of the Bexar County Family Justice, which provides services and resources to victims of domestic violence. Paul previously served on the board of directors for Any Baby Can and is also a supporter of the Nixon-Smiley Livestock Show, which awards scholarships to Nixon-Smiley Seniors.
You can reach Paul Campolo via email or online or by calling our office at (210) 922-2200.